Tuesday, May 10th, 2016...3:07 am
3 months post op
Jump to Comments
Rambo has been travelling very well lately. He's getting use to life on three legs now, although he still has the occasional slip or fall.
He still faces challenges but I am starting to see huge improvements as well. Physically and mentally.
Physically, he cannot jump as high as he use to, (to be honest we're glad about that because he would be able to jump over the fence at home) his walks are still kept short and I think he still does experience a phantom limb sensation but no pain. He still cannot stand for long periods of time but he does sit or lie down when he needs.
His chest muscles are coming back now as well as the muscles in his back leg, so he's starting to look quite strong again. His stamina is back which is so good to see 🙂 but it just means that I need to tell him when enough is enough.
His biggest challenge that we have come across so far is the steps that lead into mums backyard.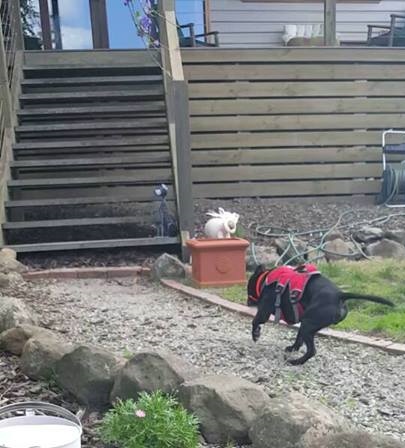 But the other week he managed to climb up them all by himself 😀
He's also managing very well on different surfaces as well as hoisting himself up over large barriers. I keep the harness on him when we go out, but i'm not helping him around so much anymore.
Mentally, he's also been doing very well. He's aware of what he can and can't do and when he has a challenge in front of him. He's pretty good at avoiding something he thinks is too much. He's also learning patience as he has to try a few times to accomplish something or he's just that little bit slower.
He's also been experiencing anxiety for a little over 12 months so with all the training that I had been doing prior to his amputation I was worried that the surgery would worsen it. We aren't out of the dark yet but he is showing signs of maturity and handling situations better than before.
My sister and I took him to the park with my other dog Jazzy and these two have not gotten along for over 12 months. But both were quite content being next to each other, no problems at all 🙂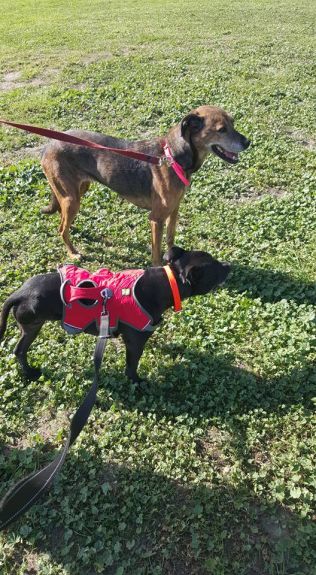 Mel xo